Students
Namrata Chand
PhD (Otago). Ecosystem of red algal communities in the Otago Harbour. Nam's research will focus on an endemic red seaweed called Adamsiella chauvinii. Despite being found around multiple places around the harbour, and in New Zealand, not much is known about it in terms of its habitat, biomass, and nutrient physiology. Nam's PhD project will work to shine light on these aspects, and to scale it up to understand ecosystem functioning of soft sediment subtidal red algal communities. Through her research and knowledge, Nam hopes to contribute information to the large pool of "unknowns" about the ocean, and make its value more recognisable in the eyes of our people.
Duong Lê
PhD (Otago). Giant kelp Macrocystis pyrifera, a case study in New Zealand: Its vulnerability and adaptation strategy.  Duong's work involves collecting Giant kelp around New Zealand and observing the quality and quantity of juveniles in a laboratory under a heatwave condition. Duong will complete a cross breeding study in order to determine the adaptation strategy of kelp in response to a changing climate.
Gaby Keeler-May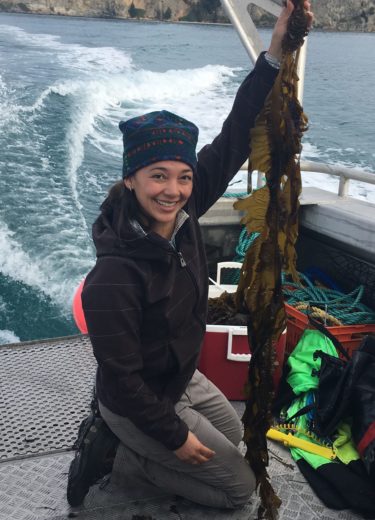 PhD (Otago). Optimal sampling methods and control strategies for Undaria pinnatifida in New Zealand harbors. Gaby's work expands on research of the invasive seaweed Undaria pinnatifida by comparing its distribution over time and across localities. She is utilizing ecological sampling methods concurrently with molecular studies to compare haplotypes, physiology, and chemistry in different harbors, exposures, and depths. She will connect this research with a control project in the East Otago Taiāpure to guide non-indigenous species management in a valued fishery and to provide insight on the effect of large-scale Undaria removalto native kelp assemblages. Her intentions are to understand which methods are best suited for assessing its diversity and to determine if there are factors that make it more likely to recover after removal. She hopes this will improve the ability to detect, manage, and monitor Undaria in the future.
Isla Twigg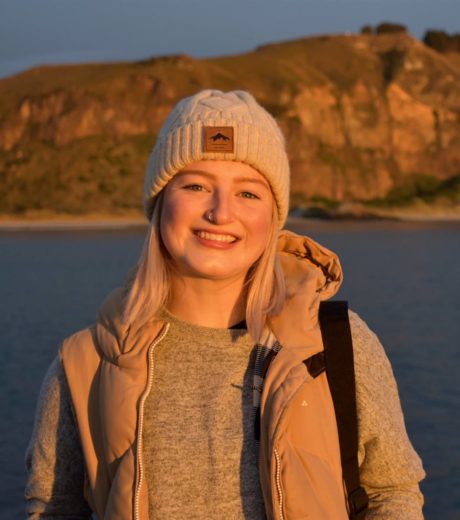 PhD (Otago). The bacterial ecology of kelp forests in southern New Zealand. Isla's research focuses on characterising the relationships between macroalgae and their associated bacterial communities. Specifically, this involves assessing seasonal changes in bacterial productivity and abundance within beds of different species of macroalgae; characterising bacterial communities within and outside kelp forests, and assessing how kelp forests and their associated microbial communities respond to environmental stress as a result of climate change.
Louise Bennett-Jones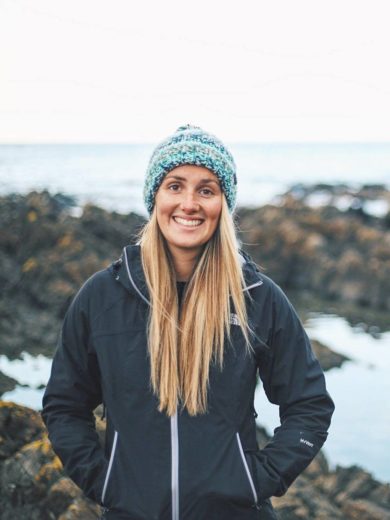 MSc (Otago). Pāua within the East Otago Taiāpure: assessment, enhancement, management. Louise is investigating the current state of pāua stocks within the taiāpure, by resurveying established monitoring sites and identifying populations trends from previous surveys conducted in 2008, 2012, and 2016. Her research will then focus on the potential for translocation as a stock enhancement tool. This will involve relocating some pāua from an area of high density to sites that have previously been exposed to high fishing pressure, the aim of improving success of broadcast spawning and, subsequently, local recruitment in over-fished areas. Louise then intends to investigate the wider matter of pāua management by reviewing management in New Zealand and comparing this with her own management experience of the abalone 'ormer' (Haliotis tuberculata) in Jersey.
Tim Howarth
MSc (Otago) Undaria pinnatifidas threat in the changing ocean. Tim's project looks at the relationship of Undaria pinnatifida and native New Zealand seaweed species under the effects of climate change. He hopes to provide a greater understanding of Undarias threat to native species through looking at Undarias invasion strategy into new locations and examining if Undaria is energetically and physiologically better suited to tolerating the increasing ocean temperatures, and the predicted low light periods that come with climate change.
Will Pinfold
MSc (Otago) Quantifying an invasive seaweed (Undaria Pinnatifida) using underwater videography. Will plans to develop a more efficient method of calculating the biomass of different species within seaweed assemblages. This will involve constructing an underwater filming setup to allow the filming of underwater transects as opposed to counting individuals on site. The aim is to allow studies to carry out a much larger number of transects in the same time period as freedivers will not be limited by nitrogen build up. In the process, he also hopes to quantify the invasion of Undaria pinnatifida in sites around Otago as well as look at the regeneration of both natives and Undaria once Undaria has been harvested.
Finn Ryder
MSc (Otago) Population dynamics of pāua in Peraki Bay, Banks Peninsula: Population structure, growth and reproduction. Finn is using data sets from the 1970s to view changes in population dynamics of the Peraki Bay Banks Peninsula pāua. His project will involve SCUBA surveys of pāua and pāua tagging, then comparing these surveys to previous data sets. Finn will work to provide up to date information on pāua in this area, as well as information on how pāua populations may be changing over time. 
Completed
Lisa van Halderen
MSc (Otago). Investigating rāhui as a fisheries management tool.
Becky Kerr
Honours (Otago). Biofiltration by macroalgae as an ecosystem service in the Waikouaiti River Estuary.
Anna Kluibenschedl
PhD (Otago). Future Ocean and New Zealand Coralline Algae: Biological and Ecological Responses Under Elevated pCO2
Aless Smith
MSc (Otago) 2019. How robust is data gathered by citizen scientists for monitoring intertidal habitats?
Hang Thi Thuy Nguyen
PhD (Otago) 2019. The ecophysiology of coralline algae in Southern New Zealand.
Terina Raureti
MPhEd (Otago) 2019. Kia mārama ai te ihi, te wehi o Mukukai: The influence of swimming on whānau engagement with water
Chanel Phillips
PhD (Otago) 2019. A Journey to Belonging: Explorations of Māori Perspectives of Water Safety.
Justine Camp
PhD (Otago) 2019. Te Tautarinui o Matariki; A whānau health compass.
Simone Jarrett
MSc (Otago) 2018. Causes of coralline algae bleaching within the East Otago Taiāpure.
Lucy Coyle
MSc (Otago) 2018. Using Esri Story Map ArcGIS to Support Community-led Natural Resource Management.
Jack Hall
MSc (Otago) 2018. Bacterial production rates on macro-algal surfaces
Brenton Twist
MSc, 2015 (Otago). The ecology of the scallop (Pecten novaezealandiae) in Te Whaka ā Te Wera (Paterson Inlet) Rakiura (Stewart Island).
PhD (Auckland/Otago/NIWA) 2018. The Corallines of southern New Zealand
Isla Twigg
Hons, (Otago) 2017. Oxidative stress in baterioplankton within kelp forest canopies.
Levi McPherson
BAppSc Hons (Otago) 2017. Key Habitat of the New Zealand Black Flounder and Sand Flounder within Estuaries.
Mason Court
PG DipSCi (Otago) 2017. Influence of potting on Blue cod behavior.
Eugene Leahy
MSc (Otago) 2017. Expansion and Harvestability of Undaria pinnatifida throughout North Otago CPAs.
Nicole Foote
MSc (Otago) 2017. Eutrophication Environmental and biological characteristics of East Otago estuaries along a gradient of marine connectivity.
Matt Desmond
BSc Honours, (Otago) 2011. Impacts of sewage outfalls on local fishery health in the East Otago Taiāpure.
PhD, (Otago) 2017. Kelp forest response to light limitation.
Lana Young
PGDipSci, (Otago) 2016. Characteristics of Blackfoot Pāua (Haliotis iris) juvenile habitat.
Blair Thomson
Hons (Otago) 2016. Temperature and UV light affect the activity of marine cell-free extracellular enzymes.
Tiffany Stephens
PhD, (Otago) 2016. Nitrogen physiology of giant kelp in Otago and Stewart Island.
Ngahuia Mita
MSc, (Otago) 2016. Hauteruruku ki Puketeraki-Connecting to Te Ao Takaroa.
Emma Kearney
MSc, (Otago) 2016. Environmental and biological factors associated with the recruitment and abundance of the scallop (Pecten novaezelandiae) in Te Whaka ā Te Wera (Paterson Inlet) Rakiura (Stewart Island).
Bridget Hardy
PGDipSci. (Otago) 2016. Urea in coastal seas, estuaries and rivers.
Pamela Fernandez
PhD, (Waikato) 2016. Impacts of elevated CO2 on the physiology of the giant kelp Macrocystis pyrifera.
Georgia Bell
MSc, (Otago) 2016.  Dynamics of fecal indicators in estuarine environments after a rainfall event.
Cohen Stewart
MSc, (Otago) 2015. Integrated multi-trophic aquaculture (IMTA) trials in Big Glory Bay, Rakiura (Stewart Island).
Rocio Suarez Jimenez
PhD, (Otago) 2015. Ecology of Undaria pinnatifida
Jordan Housiaux
MSc, (Otago) 2015.  Exploring the murky world of the sevengill shark (Notorynchus cepedianus) in Southern New Zealand
Tom Gillespie
Hons (Otago) 2014.  Shell lesions of Haliotis iris.
Tasman Gillies
MSc, (Otago) 2014. Pāua reseeding at East Otago taiāpure. A comparison of traditional vs. aquaculture approaches.
Peri Subritzky
MSc, (Otago) 2013. Identifying critical nursery habitat for pāua juveniles in locations around New Zealand.
Tom McCowan
PGDipSci (Otago) 2011. Feeding rates by greenlipped mussels Perna canaliculus.
PhD, (Otago) 2013. Genetic tools to improve reseeding success of wild pāua fisheries.
Gaya Gnanalingam
MSc, (Otago) 2013. Reproductive output of pāua (Haliotis iris).
Rory Kyle
MSc, (Otago) 2013. Roles of predatory starfish (Astrostole scabra) in structuring marine communities exposed to different degrees of water motion.
Gayle Somerville
MSc, (Otago) 2013. Exploring harvest regulations of New Zealand abalone (Haliotis iris) via population modelling.
Sorrel O'Connel-Milne
BAppSci Hons, (Otago) 2013. Sustainability of a traditional harvest method for Karengo.
Chris Cornwall
PhD, (Otago) 2013. Susceptibility of near-shore temperate rocky reefs to ocean acidification.
Rory Kyle
MSc, (Otago) 2012. Roles of predatory starfish (Astrostole scabra) in structuring marine communities exposed to different degrees of water motion.
Rebecca James
MSc, (Otago) 2012. Effects of ocean acidification on macroalgal communities.
Sam Temperton
PGDipSci (Otago) 2011. Competition between juvenile pāua and other invertebrates.
Daniel Pritchard
PhD, (Otago) 2011. The ecophysiology of the deep-water macroalga Anotrichium crinitum (Kützing) Baldock
Caitlin Chew
BAppSci Honours, (Otago) 2011. The effects of sedimentation on the growth and survival of juvenile Haliotis iris and their living habitat (crustose coralline algae).
Ani Kainamu
MSc, (Otago) 2010. The fishery trend of the Littleneck Clam, Austrovenus stutchburyi, the filtering capacity, and phytoplankton flux within an East Otago Inlet.
Derek Richards
MSc, (Otago) 2009. Subtidal rocky reef communities of the East Otago Taiāpure.
Robert Win
MSc, (Otago) 2009. Kelp forests: Crucial habitat for fish and invertebrates on the East Otago Coast.
Tātai kōrero ka ngaro, tātai kōrero ka rangona.